Activity Indicator Control
Written by: Michael Karas

This control is an "in-process" indicator control that can be placed on a form to act as an ongoing activity display. The control can display in one of several styles. The activity indicator control can be sized to any suitable size at design time. The center point of the control is placed at the center of the rectangular control region. The radus is adjusted to that the indicator image fits within the narrower of the width or height.

The picture below shows graphic styles that the activity indicator can display.




The idea to build this control came from the activity indicator used on the status bar of my favorite email program. The picture here shows the small sized YingYang symbol that rotates while the program is sending or receiving email. (You may click on the picture if you want to learn more about Eudora).




The image below shows the Visual Basic properties box for the Activity control. Four specialized property settings, all of which are read/write at both design time and run time, provide the ability to customize the control to specific usages.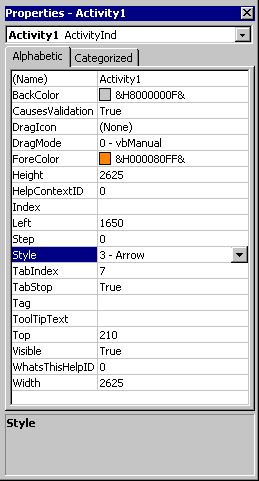 The following list describes these properties in detail:

ActivityInd.BackColor As OLE_COLOR - Specifies the color of the background rectangle of the control.



ActivityInd.ForeColor As OLE_COLOR - Specifies the foreground color of the activity indicator or the clock hands.



ActivityInd.Step As Integer - Specifies the step number for the current indicator position as an integer value in range from 0 -> 100%.



ActivityInd.Style As eDisplayStyle - Controls the display style of the activity control. The choices available are:


YingYang
ClkHands
Pointer
Arrow




The control comes packaged with a simple test application program that permits the Activity control behavior to be manipulated and studied. The picture below shows what this test application looks like: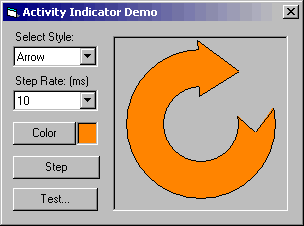 Click the link below to download the Activity Indicator Control source code and project files that have been packed into a ZIP archive file.



Download Activity Control



(Note regarding the download: You may incorporate all or parts of this program into your own project. Keep in mind that you get this code free and as such Carousel Design Solutions has no responsibility to you, your customers, or anyone else regarding the use of this program code. No support or warranty of any kind can be provided. All liability falls upon the user of this code and thus you must judge the suitability of this code to your application and usage).